Resources
Fortune 500 Company - Case Study
The Fortune 500 company's automated mobile workforce management and service optimization solution runs on 10,000+ these EC2 instances spread over 13 accounts in the US: West and Europe regions. Their developers provision servers on-demand. The customer's team of 5 CloudOps engineers were tasked with enforcing several compliance policies to enforce configuration state across their footprint. Due to lack of automated detection, notification, and approval based remediations there were extensive delays in collaboration and response time to compliance violations.
With DAY2™ Compliance Bot we solved their cloud complexity and compliance challenges in just few minutes instead of weeks of lead time. Our customer is now setup for continuous cloud compliance and governance across their entire cloud footprint with automated remediation and approval actions, within their existing ChatOps channel in Slack, for effective collaboration within their cross-functional teams.
With MontyCloud DAY2™ Compliance BOT the customer now gets a real time compliance assessment and notifications. Their teams are also able to approve or set automatic approval of remediation actions which the Compliance BOT enforces. The DAY2™ Compliance BOT is built on AWS native solutions. The customer does not have to deploy server agents, maintain management servers or use any third-party tools. Now a team of 2 (down from 5) manages all compliance operations vs. the original team of 5. With the MontyCloud DAY2™ Compliance BOT the customer achieves:
Continuous compliance checks across 10,000+ EC2 instances
Automated enforcement of organization wide and team specific desired state relative to team specific compliance policies
Rules-based noise reduction and prioritization of critical issues along with notification into custom slack channels
Approval based automatic remediation of most compliance violations within minutes, instead of previous system that took weeks of manual effort
Scale on demand – whenever developers provision configuration state is automatically enforced. This eliminates manual inventory gathering and governance
MontyCloud DAY2™ helped the customer custom scripts, proprietary third-party agents, and manual interventions. DAY2™ helps the customer refocus their talent in other growth areas.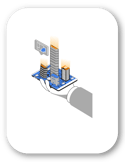 INDUSTRY
Software Technology – Sales CRM SaaS
LOCATIONS
North America
Europe
Fortune global 200 ISV with tens of thousands of enterprise customers worldwide. Their mobile workforce management and optimization service runs on 10,000+ Amazon EC2 instances spread across 4 AWS regions.
VOICE OF THE CUSTOMER
"MontyCloud DAY2™ helps our customer run a more secure and compliant environment, with AWS native solutions, and without linearly growing their team. In addition to compliance alerting and automated remediations, DAY2™ also helps our customer automatically maintain a full audit trail of actions, all without needing custom tools or third-party server agents. We estimate DAY2™ is saving this customer hundreds of thousands of dollars every year."
KANDICE HENDRIKS
Delivery Architect at GreenPages | MontyCloud's Solutions Partner