WHAT IS CLOUDOPS?
and why does it matter?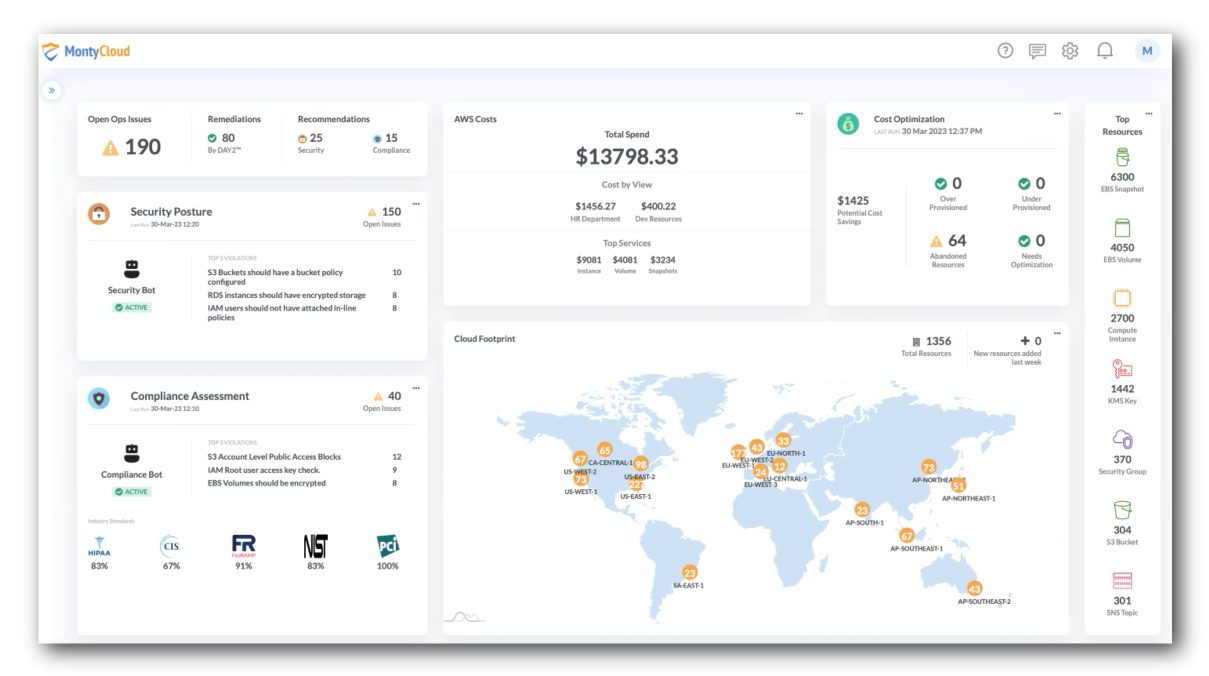 Save Time, Save Money and Innovate Rapidly with Autonomous CloudOps
Today's CxOs, IT leaders, Digital Transformation leaders, and Citizen developers demand modern, intelligent, and data-driven applications to better serve their customers. Public Cloud promises these outcomes, but to truly harness its potential, organizations must simplify Cloud management and deliver efficient Cloud operations.
Business teams require access to modern applications & Cloud services
Developers want to focus on innovating rather than operating the Cloud
Leadership teams need better visibility and attribution of their cloud investments to drive alignment with business goals
What is CloudOps?
CloudOps, or Cloud Operations, is a comprehensive approach to managing and optimizing cloud resources and services. It encompasses various shared responsibilities such as cloud governance, best practices enforcement, cloud cost monitoring and optimization, cloud security posture management, cloud compliance management, routine maintenance operations, and business process integration.
Efficient CloudOps is essential for businesses seeking to benefit from the public cloud's agility, scalability, and innovation.
Why Efficient CloudOps Matters?
Inefficient CloudOps can lead to delays in Cloud enablement, Cloud cost overruns, security misconfiguration, complexities in meeting compliance objectives, and challenges integrating CloudOps with business processes and existing IT systems. Here's why efficient CloudOps matters:
Rapid Onboarding and Services Enablement: IT organizations that embrace CloudOps can provide innovators and cloud consumers with safe, secure, and rapid access to cloud services. By adopting a well-architected approach to setting up cloud infrastructure and governance models, organizations can save time and money while improving security and compliance. This empowers teams to innovate rapidly and avoid common pitfalls in early-stage cloud adoption.

According to an AWS case study, GE Oil & Gas reduced their application onboarding time from months to days.
A global luxury retailer used MontyCloud's solution and reduced their Cloud onboarding and Services deployment time by 75%. [Case study].
Optimized Cloud Cost: Efficient CloudOps enables organizations to save up to 35% on their cloud bills, freeing up capital for innovation and customer service. Implementing effective cost optimization strategies, such as rightsizing resources, scheduling instances, and using reserved instances or savings plans, allows businesses to maximize the value of their cloud investments. Proactively monitoring and analyzing resource usage helps identify potential cost-saving opportunities and ensures that organizations only pay for what they need. By investing in efficient CloudOps, companies can reduce waste and allocate their budget more effectively.
Enhanced Cloud Security: Effective CloudOps practices lead to improved security posture and reduced risk of security incidents. By continuously monitoring cloud environments, implementing automated remediation of misconfigurations, and leveraging best practices such as the principle of least privilege, organizations can significantly decrease vulnerabilities.
According to a report by Gartner, efficient CloudOps can help prevent up to 99% of cloud security failures that are expected to be the customer's fault through 2025. By investing in robust CloudOps, businesses can protect their valuable data, maintain customer trust, and ensure long-term security in the cloud.
MontyCloud is an AWS certified Well-Architected Framework partner. Our automated solution saves customers 90% of time they spend on identifying and improving their Cloud Security posture.
Simplified Governance & Compliance: Efficient CloudOps helps organizations streamline their governance and compliance processes, ensuring they meet industry regulations while reducing the time and cost associated with compliance management. By implementing well-architected cloud frameworks and automating compliance checks, organizations can minimize the risk of non-compliance, which can lead to costly fines and reputational damage.

According to an AWS case study, the financial services company Capital One was able to maintain a strong security posture and meet stringent regulatory requirements by leveraging AWS services and adopting a well-architected approach to cloud governance and compliance.
A Fortune 500 company offering a SaaS Sales CRM achieved 100% compliance and automated remediation across 10,000+EC2 instances, along with $500,000 in annual cost savings with the MontyCloud's Automated Compliance Solution.

Accelerated Innovation: Efficient CloudOps empowers businesses to focus on developing intelligent applications and services that drive growth and customer satisfaction. By automating routine tasks and auto-optimizing services, organizations can redirect resources toward innovation instead of cloud management.
An Amazon AWS study showed a 46x increase in deployment frequency and a 440% higher change success rate for organizations that accelerate innovation using best practices in DevOps and CloudOps. Source: Amazon AWS
An advanced research department at a leading private university improved their productivity by 30% by empowering their team with automated Cloud Services, and No-Code self-service model, and by integrating business processes into Cloud workflows.
Challenges in Delivering Efficient CloudOps
IT teams face several challenges in delivering efficient CloudOps:
Managing the complexities of over 200 services available from Amazon AWS using multiple control planes, APIs, and custom code leads to undifferentiated heavy lifting.
Cloud governance and services enablement for safe and cost-efficient consumption requires highly skilled Cloud architects.
Cloud security posture management is complex and configuration mistakes are easy to make.
Growing complexities in meeting Compliance objectives
Challenges integrating CloudOps with business processes and existing IT systems.
Overcoming these challenges requires a high degree of expertise and actionable insights on demand, which can be time-consuming and complex.
Autonomous CloudOps by MontyCloud helps you do more with less
An Automation-first approach to CloudOps, or 'Autonomous CloudOps; delivers results by enabling organizations to achieve better outcomes, faster, and with greater confidence. By providing real-time visibility, automation, and continuous monitoring, CloudOps helps organizations optimize their cloud resources and achieve their business goals.
Enhancing your CloudOps strategy with autonomous capabilities empowers your organization to deliver intelligent, data-driven applications and services that exceed customer expectations. By prioritizing cloud cost, security, governance, and compliance, you can unlock the true potential of the Public Cloud.
Our customers benefit from MontyCloud's unique No-code approach that incorporates Automation at every step of their Cloud journey. With MontyCloud's DAY2, our Autonomous CloudOps platform, customers are saving 40% of Cloud costs, experiencing 30% improvement in productivity, and delivering an astonishing 70% of time savings as they innovate in the cloud.
In just a few clicks, MontyCloud's No-Code Autonomous CloudOps Platform delivers:
Cloud enablement and governance

Visibility and control

Automated Operations
Now IT teams can achieve excellence in Cloud Operations, Developers can spend less time operating the cloud and more time innovating in the Cloud, and digital transformation leaders can do more with less.
Experience the power of intelligent applications and services, fueled by the efficiency of No-Code Autonomous CloudOps. Unlock the potential of the public cloud to drive innovation and growth.
Experience the difference with MontyCloud's Autonomous CloudOps solutions.
We'll be happy to help your team achieve excellence in CloudOps | Get a free trial here.